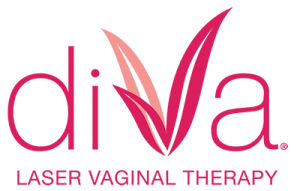 Do not settle for declining vaginal health. diVa™ Laser Vaginal Therapy can help you feelconfident with your body and health
Each woman is unique but there are a few defining factors that can have an impact on all women, the first being decreasing estrogen levels due to an array of potential reasons.
Breastfeeding
Removal of ovaries
Chemotherapy for cancer
Radiation therapy for pelvic cancer
Hormonal therapy to treat breast cancer
---
Minimized or slowed production of estrogen has been shown to lead to thinning of the vaginal walls and ultimately vaginal atrophy. Following these events, many women will experience a decrease in function.
Then there are women who will experience a vaginal looseness or slackness, which is often caused by a loss of collagen from childbirth, aging or gravity. The symptoms of lax vaginal walls can include bladder control issues and challenges achieving sexual satisfaction.
diVa™ Laser Vaginal Therapy will allow us to address your individual intimate needs and help you feel sensual and more vital.
HOW DOES DIVA™ LASER VAGINAL THERAPY WORK?
The diVa™ Laser Vaginal Therapy technology is made up of the only Hybrid Fractional Laser for Laser Vaginal Therapy. Its automated hand piece rotates a full 360 degrees to minimize error and ensure full coverage of the vaginal canal compared to other lasers that require manual manipulation. The automation makes diVa™ a 3 – 5 minute procedure.diVa™ therapy can help minimize vaginal laxity, increase muscle tone and naturally increase vaginal lubrication.
WILL DIVA™ LASER VAGINAL THERAPY REQUIRE DOWNTIME?
Most people return to the routine immediately because there is no downtime required after a patient receives a diVa™ Laser Vaginal Therapy treatment.
Please click here to ask for more information on the diVa™ Laser Vaginal Therapy.
TESTIMONIALS & CUSTOMER COMMENTS